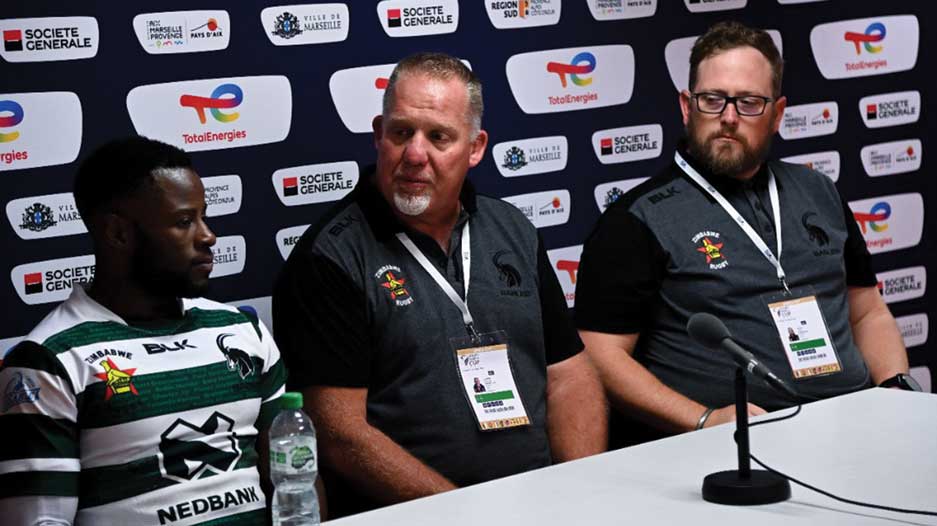 BY DANIEL NHAKANISO THE Sables will have an opportunity to salvage some lost pride after their semi-final defeat against Namibia last Wednesday when they face a vastly improved Algerian outfit in the 2022 Rugby Africa Cup third place playoff match tonight.
The match, which will be played in France's southern city of Aix-en-Provence, kicks off at 6pm and will act as the curtain raiser for the winner takes all final between Namibia and Kenya where an automatic ticket to next year's Rugby World Cup will be at stake.
Zimbabwe will head into the match at the Stade Maurice David with a sense of what might have been.
A gut-wrenching 34-19 loss to perennial nemesis ended the Sables' hopes of qualifying for their first Rugby World Cup since 1991, instead setting up a consolation game against unfamiliar opponents Algeria.
The North Africans, who came into the tournament ranked a lowly 90th on the World Rugby ranking also came agonisingly close to completing a fairytale run to the final after being edged 36-33 by Kenya in an earlier pulsating semifinal on Wednesday.
Sables coach Brendan Dawson, who was aiming to lead the country to their third appearance at the World Cup after featuring at the 1991 tournament as a player, admitted the challenge of preparing for the bronze medal game has been tough following Wednesday's disappointing loss to Namibia.
"After the Namibia game the mood in camp was really down, the guys were dejected. They put everything into that game, they put their bodies on the line and did everything we asked them to do and we can't ask for anything better than what the guys have done," Dawson said.
He, however, assured the nation that his charges were "pumped up" ahead of the consolation game and are eager to make a statement against an unpredictable Algerian side, which has pumped above their weight in this competition.
"We've got to make sure we come out strong in the game against Algeria, which the guys are pumped up for. We had a really good training today and the boys have finished off on a really good high so they are really pumped up for this Algeria game to make sure that everybody can know where we are and where we stand as a nation and rugby team playing in the top levels of (African) rugby," he said.
Dawson has made nine changes to his starting lineup, which faced Namibia last week as he attempts to balance player workload while also ensuring the team finishes on a high.
The highlight of the changes is the return of loose forward Aiden Burnett after missing the Namibia game due to suspension following a red card in the opening game against Ivory Coast.
Zimbabwe Under-20 captain Takudzwa Musingwini gets his first start in the tournament at flyhalf, replacing Marcus Nel, who struggled as a makeshift number 10 against Namibia.
In other backline changes, Romania-based inside centre replaces Chieza while Martin Mangongo is preferred to Shayne Makombe at left wing.
Sables starting line-up (1-15): Victor Mupunga, Liam Larkan, Bornwell Gwinji, Godwin Mangenje, Godfrey Muzanargwo, Aiden Burnett, Kelvin Kanenungo, Nyasha Tarusenga, Hilton Mudariki (captain), Takudzwa Musingwini, Shingirai Katsvere, Ngoni Chibuwe, Matthew McNab, Martin Mangongo, Tapiwa Mafura
Replacements: Tyran Fagan, Matthew Mandioma, Cleopas Kundiona, Johan Du Preez, Tapiwa Tsomondo, Kyle Galloway, Rian O'Neil, Takudzwa Chieza
Related Topics