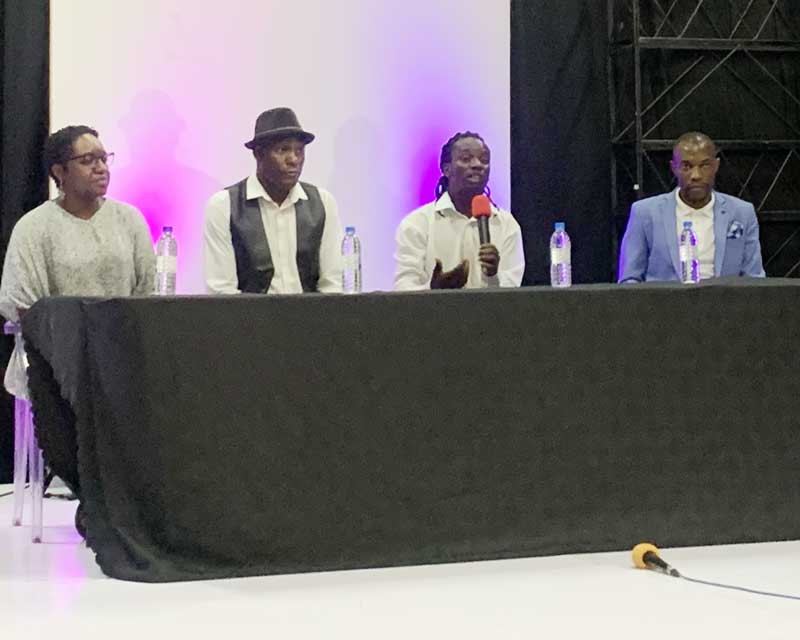 Anne Frank once said: "Dead people receive more flowers than the living ones because regret is stronger than gratitude."
However, it has been a different tune for Afro-pop ace Jeys Marabini, who was honoured and appreciated while still alive by arts producer Saimon Mambazo Phiri .
Phiri said this at the recent Jeys welcome back show dubbed Jeys Marabini: Extraordinary Welcome Back Show to be held in November 26 at the Bulawayo Theatre.
The welcome back show comes after Jeys took a break from music due to illness.
"We come from a history of being nonentities and no identity, but we turned ourselves into commodities of commercial value," Phiri said.
"That's why Jeys is seated here, that's why he is living through this music."
Phiri gave Jeys flowers.
"This is an honour for us today to give you your flowers while you are still alive and also to officially tell you that we love you," he said.
"Most of the times we will be scared, but we love you my brother.
"Whatever happens in this life time, you have played your part in as much God loved you and gave you a second chance to play the guitar.
"We love you, Zimbabwe loves you, the world loves you, they will show you on November 26."
Phiri hailed journalists for being part of the cause.
"These are the stories that are coming to our work place, it's good that you come to places where we create," he said.
"This is good for us and also the young people that are here.
"You are lucky to be seeing living legends infront of you, take advantage of that."
Jeys said his secret to success was passion for what he does and believes in.
"As for me, I have never sold vegetables, or became a mechanic or waking up at 4am going to work," he said.
"I don't know such an experience because the experience I have the whole of my life is music.
"I am also here to inspire others, the young generation.
"The time we grew up, we looked upon people like Lovemore Majaivana, Black Umfolosi, Thomas Mapfumo and some have left us the likes of Solomon Skuza, Ndux Malax, Don Gumbo, Oliver Mtukudzi, Leonard Tempo and for me to be here, it's because these people were there when I grew up."
Jeys said he got more inspired and told himself whether he makes money or not music was his calling and that's what he wants to do.
"God also blesses you in something that you have passion for," Jeys said.
"So this is my last phase since I'm 50 years and it my last phase before 100 and I don't know if I will reach 100.
"So the first phase in my life, I have achieved a lot. I may not have achieved everything because I have to also leave a share for others so that they will remain correcting the errors we missed."
Jeys roped in Tariro NeGitare after he realised that something was missing during the production of one of his songs.
"I called her, she was happy and the following day she was here we recorded the song," he said.
"The song is amazing, it talks about unity as a people, as Africans, Zimbabweans that we must love each other, show each other respect.
"The song says let's all come together, we are one people.
"What I like about her is she plays the guitar and in the track she played her guitar and I also played mine. It was really amazing."
Tariro NeGitare said: "I feel this collaboration really put me on a level I don't deserve to be on because we are dealing with such a legend and I really thank God for preserving his life because we would not have an opportunity to work with him."
She said apart from sharing music, collaborations were about sharing a number of things, including experiences, gift, talent and knowledge.
"One of the things that I really felt, yes the messages some we have heard before, unity but why do we keep talking about unity, skin colour, barriers to progress," Tariro Negitare said.
"This collaboration is very different because I'm not only coming in as a musician, but really to be harnessed, welcomed, counselled and groomed because when we talk about coming together I know Bro Jeys is well travelled."
Related Topics