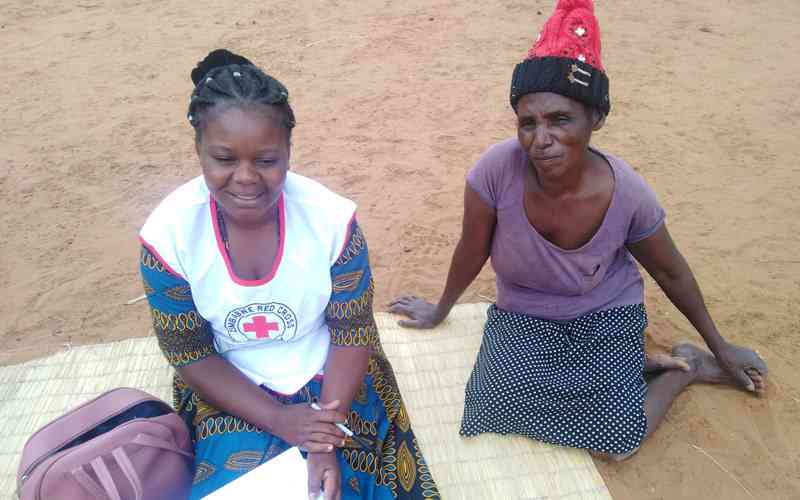 Early this year Manicaland province was hit by an outbreak of measles and within a few months, the epidemic had spread across the country, claiming the lives of 157 children and all of them were unimmunised.
The mainstay of measles control and prevention lies in vaccination, but due to lack of basic awareness about well-timed vaccination of children and the unavailability of immunisation surveillance, especially in rural communities, the country has find it difficult to eliminate measles.
In some instances, parents delay or refuse to vaccinate their children even when immunisation services are available due to religious and cultural beliefs.
"I stay with my two grandchildren who are less than five years old and both are immunised against measles," said Mary Makotose of Fundikwa village in Gokwe South, ward 13.
"It's true that a number of people in this village had not immunised their children and of course, some lost them because of the disease.
"The reason why people were not taking children for immunisation is that they lacked knowledge while some were forbidden by their religious and cultural beliefs."
Makotose said over the few weeks she had seen a number of families, including some from the apostolic sect taking children for measles vaccination.
"We have noticed some people do not immunize their children. They do so in broad day light, something that I attribute to door-to-door campaign going around in the village," she said.
"We have had people from the Red Cross going around preaching to us the importance of vaccination."
Makotose said more social mobilisation of this nature should be done to ameliorate vaccination uptake.
The Zimbabwe Red Cross Society (ZRCS) with support from the American Red Cross is augmenting government efforts in eliminating measles through social mobilisation programmes in high-risk communities, which include Gokwe South in the Midlands province, Hopley, Southley Park and Epworth in Harare.
"The programme is meant to contribute to the reduction in morbidity and mortality due to measles amidst the Covid-19 pandemic through an increase in vaccine utilisation and coverage," said ZRCS secretary-general Elias Hwenga.
"Gokwe South was one of the most affected districts in the country based on the number of cases, vaccination coverage and large presence of community members resistant to vaccination promotion.
"Our organisation's response activities were aimed at complementing the government and other stakeholders' efforts to enhance herd immunity in the affected district.
"Social mobilisation campaign was through house-to-house visit by volunteers and the focus was on conveying key messages such as location of vaccination sites, benefits of vaccination and vaccinating a high percentage of children possible in the target population."
Hwenga said the target population was mostly religious sects that were shunning vaccinations.
Under the programme 310 volunteers were identified and trained by 31 supervisors who moved around communities in Gokwe South.
There were six data managers who led the research whose information would be shared with the Health and Child Care ministry.
Manokore village head Last Martin Manokore said the door-to-door campaign had yielded results in his community.
"When the government embarked on the measles vaccination programme, there was some resistance from some villagers, but we later discovered that after the intervention by Red Cross there was an influx of people seeking vaccination services," Manokore said.
"As community leaders, we had to join the Red Cross in mobilising villagers; even those restricted by their religious beliefs took heed of the call."
Manokore said social mobilisation programmes were of great benefit to communities, especially in addressing their health concerns.
Tabeth Kamutatare of Mafungautsi suburb in Gokwe town said the social mobilisation programmes should also expand to rural communities.
"These door-to-door campaigns are good, but I feel they should be spread across the district, especially in marginalised communities where villagers lack awareness," she said.
"We learnt a lot from the campaigns and I now understand why it is important to vaccinate children and even myself."
Approximately 95% of a population needs to be vaccinated against measles in order to achieve herd immunity.
"Gokwe South has not recorded any measles-related deaths since the time we started this programme," said Hwenga.
"Previously the vaccine uptake was around 65%, but we are targeting 95% which is the herd immunity threshold."
Public health expert Johannes Marisa said the rise in missed vaccinations and lower rates of outbreak surveillance put the country's measles elimination at risk.
"There is need to raise awareness on the importance of vaccination to improve uptake of these life-saving vaccines among communities, especially in outlying communities and churches," said Marisa.
"The trick lies in encouraging communities to have children vaccinated and when we have a herd immunity we are OK in as far as outbreaks are concerned."
Related Topics