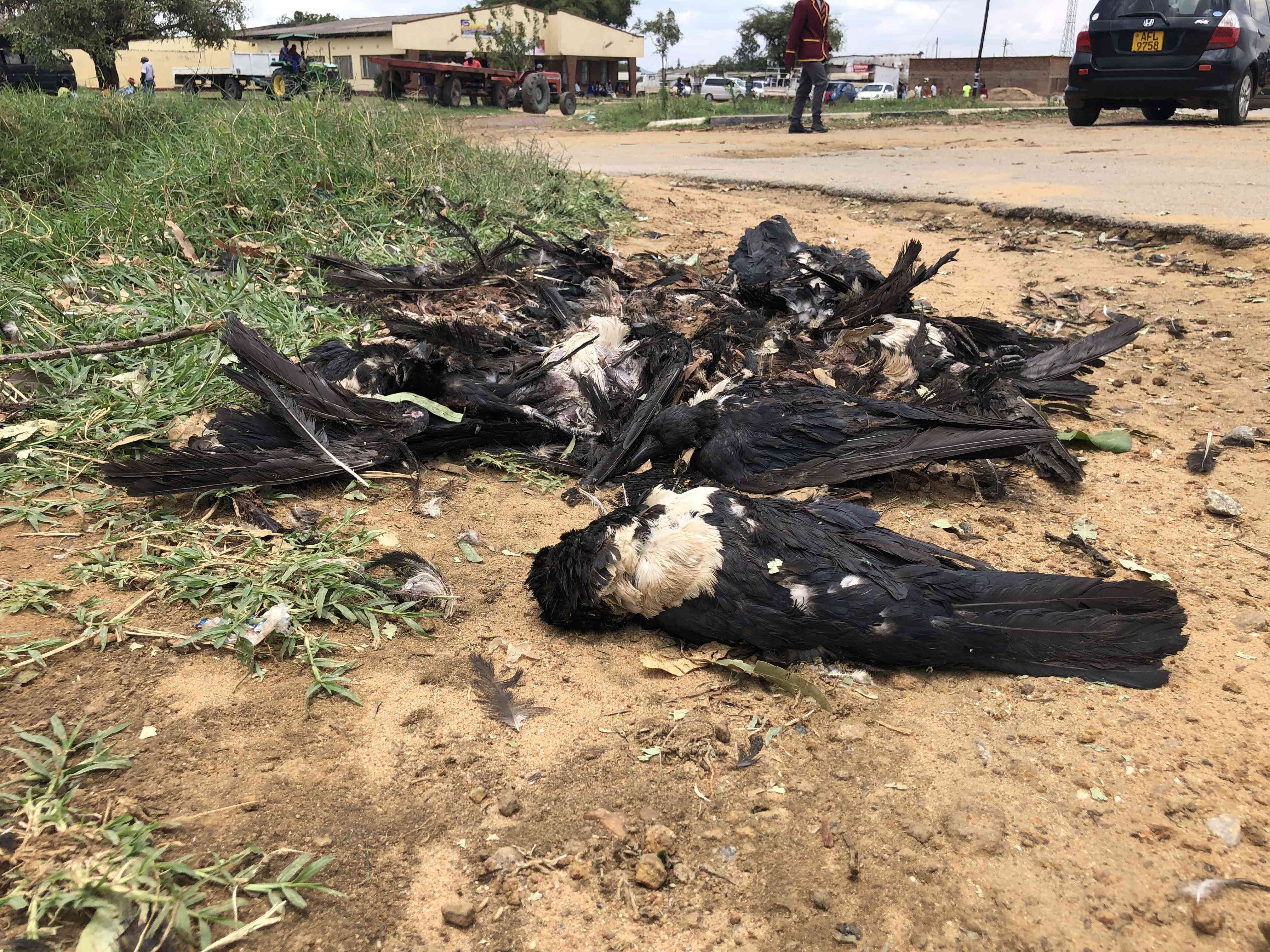 Lifeless crows could be seen laying all over the streets while trees -some decades old- either blocked roads or fell on infrastructure like electricity and telephone cables, putting the lives of locals to an unexpected standstill.
These were the scenes on the morning after a devastating storm that struck Mvurwi, a town located 100 kilometers northwest of Harare, on November 24.
As local authorities made frantic efforts to clear the streets and restore a certain level of normalcy so that the day could proceed as usual, Sharon Kadenge (25) stood in her roofless one-room cottage overwhelmed by fear, gloom and disbelief.
"The rain started at around 11pm, it was very windy such that it shook the roof and eventually blew most of it away leaving us and everything we own exposed," she narrated the ordeal she had to face with her five-year-old son in the absence of her husband who had been on an overnight work shift.
"It was dark because our solar lights immediately went off along with the roof, I started collecting all our belongings putting them on the bed but that is also the same time when a piece of asbestos cracked and fell on my son although, luckily, he was not badly hurt."
Homeless and with only a handful of belongings including the clothes she had on, Kadenge recalled how tormenting those close to two hours of rain were such that she could not remember the number of times the thought of death crossed her mind
"I have never encountered so much rain and loss since birth. I was so scared that when I first got off the bed I had a moment of disorientation even when my son kept on screaming that he was hurt and wet all that went through my mind was that that could have been the end of us," said Kadenge.
Climate change and its impacts is causing untold suffering and strife across the country and globally with people living in poverty being the most vulnerable.
The occurrence of extreme weather has increased in the recent past with some parts of Zimbabwe, for example, experiencing unbearable temperatures or life-threatening rainfall they never did in the past.
Loosely defined climate change vulnerability is the "propensity or predisposition to be adversely affected by climate change".
According to the United Nations Research Institute for Social Development (UNRISD) report titled Crises of Inequality: Shifting Power for a New Eco-Social Contract, the marginalized face a "double injustice" where they are most affected by climate change yet have less resources to cope with its effects.
"This "double injustice" of climate change operates at various levels including income, race/ethnicity, citizenship status, employment status, gender identity and sexual orientation, among others.
"Due to a number of factors, the poor tend to suffer the worst consequences of climate change, in what is known as the poverty-environment trap," reads part of the report.
True to these findings, the loss and damage faced by poor communities after an extreme weather event has been devastating not only during but long after the occurrence.
Since surviving what he deems the most catastrophic night of his life on March 15, 2019, Sugate Takarwira is yet to experience a decent life to date.
In fact, by May this year, the forty-two year old was still very uncertain that after facing the life changing Cyclone Idai and its equally horrible aftermath he will be able to live normally in this lifetime.
Takarwira is one of the estimated 250 000 people from across Zimbabwe's three districts of Chimanimani, Chipinge and Mutare that were affected by the climate-induced disaster.
Deemed one of the most destructive Indian Ocean cyclones on record, the fierce currents washed away hundreds of households killing and maiming thousands while destroying property worth millions of dollars.
"What we went through during the cyclone was horrific and we still feel the effects even today," Takarwira told this reporter in an interview.
"Our lives changed for the worst and we are still to recover three years later."
Like countless other victims, the father of two's losses are incalculable and this has been exacerbated by the precarious circumstances he has had to encounter following the disaster.
Apart from losing his youngest child who died on the fateful day, the once thriving small-scale farmer lost all his produce ready for harvest, stock that was part of his tuck shop business and household property.
Left in such a desperate situation his suffering was worsened by the government and international donor community's failure to either provide enough food or a decent roof over his remaining family in their response efforts over the months succeeding the disaster.
As a result, he had to stay in a tiny canvas tent in one of Chimanimani's temporary holding camps where he largely survived on handouts.
"What if we never get a chance to start our normal lives afresh?" questioned Takarwira who was moved last November to another location, two hours from the camp, albeit to stay in a wooden cabin despite government promises to build permanent houses for all survivors.
Such are the impacts of climate change on an ordinary person in what sparks debate on the urgency of climate justice in the form of post-disaster compensation.
Climate justice is a concept that addresses the just division, fair sharing and equitable distribution of benefits and burdens as well as responsibilities to deal with climate change.
Climate disturbances are fast becoming a norm across the world although the effects have been more defined in global South nations like Zimbabwe, which are least responsible for carbon emissions that drive global warming and climate change.
Recent reports note that Zimbabwe is set to experience a constant reduction in precipitation, increase in temperatures, volatile weather patterns and less dependable seasons.
Ultimately, these findings point at a higher frequency of droughts, floods, cyclones and tropical storms that have increased over the past two decades, leaving a trail of damage.
"When we begin to talk about climate change we should actually be at an extent of ensuring that loss and damage is the first thing that concerns us because that is what we see first," says local human rights activist Sydney Chisi.
"We should start from where the people are (and) where they are affected and ensure that we engender and see the social imbalances that exist within our own spaces so that we begin to talk about issues of loss and damage more."
In November, world leaders, corporations and climate activists met for the 27th session of the Conference of Parties (COP27) to the United Nations Framework on Climate Change Convention (UNFCCC), which took place in Sharm El-Sheikh, Egypt.
There, a historic decision to establish and operationalize a loss and damage fund was made albeit in theory and yet to inspire confidence.
Meanwhile, growing impacts of loss and damage have become real more than ever exposing how first world countries are ostensibly dragging their feet in taking financial responsibilities for the loss suffered by least developed countries.
"Climate change is the defining crisis of our time. Africa is experiencing the climate crisis now and things will get worse," said Trusha Reddy a South African climate change activist lobbying African campaigners to rally together prior to this year's COP negotiations.
"We need to ratchet up the pressure in industrialized countries which are the major polluters ahead of COP27"
Despite being hosted in Egypt, an African country, doubt lingered over COP27 ensuring that the developed and wealthy North would agree to an extensive and practical deal to compensate the global South for climate inconveniences caused through greenhouse gas emissions.
Critics labeled it another jamboree where individuals ironically met for luxurious hotel stays and early Christmas shopping under the guise of climate crisis negotiations.
Zimbabwe alone reportedly sent a delegation of 264 people at a minimum cost of nearly US$1,6 million to COP27 at a time when many marginalized families are suffering from the effects of climate change.
This, at a time when the climate scourge is intensifying, is an apparent mockery to the plight of the poor and most vulnerable. Survivors like Kadenge and Takarwira remain stranded and uncertain if any aspect of their lives will ever return to normal
"I do not know what we will do next because we do not even have money to rent a new place or immediately replace the belongings we lost during this storm," says Kadenge.
For Takarwira, unanswered questions linger:
"How can the government fail to solve our problems yet it paraded that we had lost everything and attracted worldwide sympathy with some trying to help. I lost my family for example so would you think that I would sit and relax under such a situation?"
Related Topics